If the external browser option is checked, the application browser will be replaced by an external one to maximize navigation compatibility (by default, it is Firefox on PC or Chromium on XS (raspberry Pi)). This option will launch the external browser with the selected url.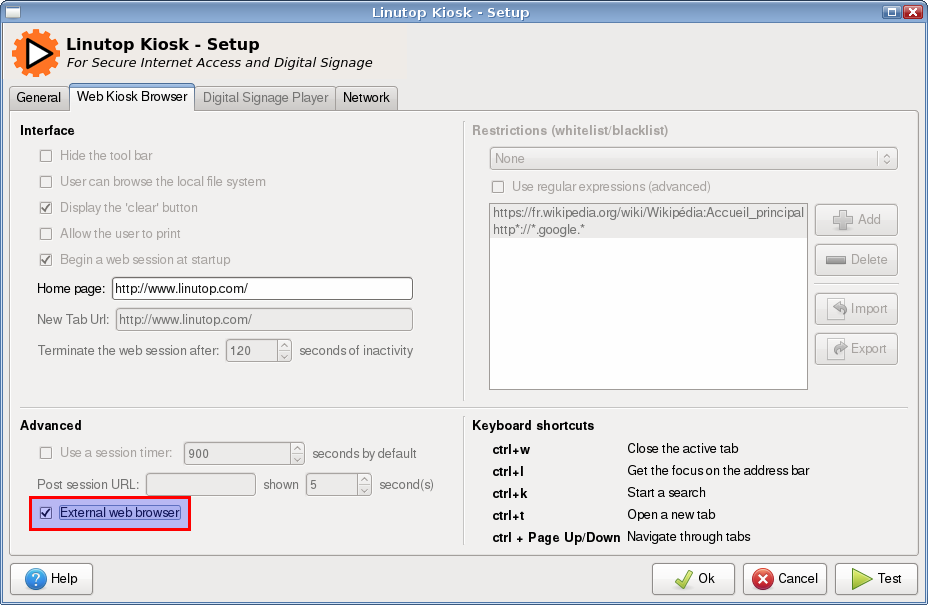 To improve security in this configuration, you will have to secure the external browser first. to do so you can use plugins like R-Kiosk or mKiosk for firefox
To use another web browser you need to edit this line in the main configuration file (/etc/xdg/webkiosk/preferences)

external_browser_cmd=chromium-browser --kiosk %u

--kiosk enable the chromium built-in kiosk option (fullscreen)
%u allows to pass the URL to the chromium browser
This feature allows to start an application in secure kiosk mode you just need the launch command configured in the main configuration file (/etc/xdg/webkiosk/preferences)

external_browser_cmd=commandlinelauncher

The Kiosk can be configured to forbid access to some Internet resources. You can define a list of URLs that will be used either as a blacklist (list of forbidden URLs, everything else is allowed) or as a whitelist (only the listed URLs are allowed). You can obviously choose to not restrict the URLs.
The list uses a set of URL patterns. The * has a special meaning. It symbolises any letter, as many as you want. For instance, to allow anything hosted by Google, you can use:
http*://*.google.*
This will allow to use both http and https protocols (
http*://
), on any subdomain (
*.google
) of any country (
google.*
).
The patterns can be defined as regular expressions. If you don't know what that is, you just don't need this! If you are familiar with regex's, have fun!
By default the file:// protocol, allowing the browser to act as a file browser, is forbiden. To enable this feature, check the User can browse the file system checkbox.