This feature allows the user to directly interact with the playlist. It can also be used to display a message with the direct display feature.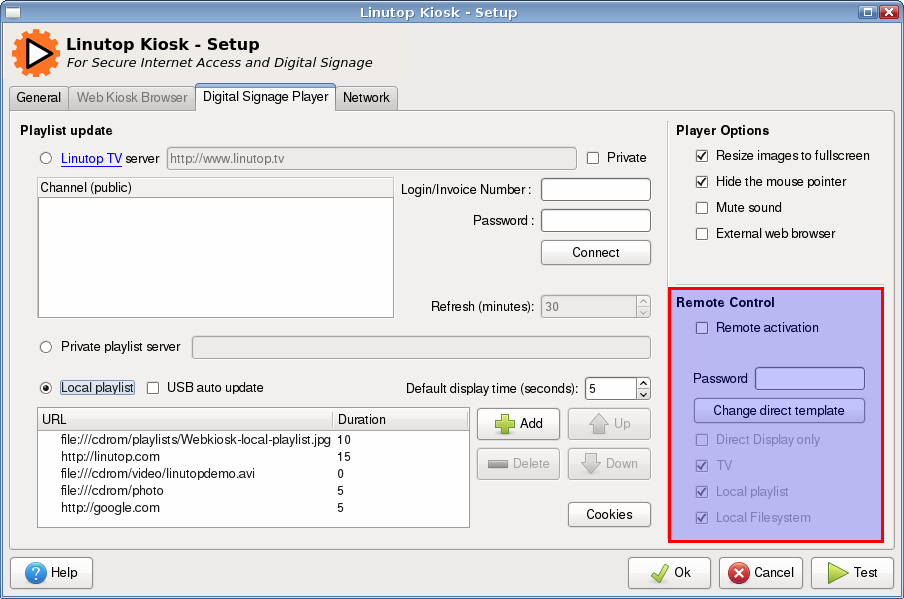 To enable the remote, remote activation has to be checkedm then to start the remote, the Linutop Launcher must be running.
Once started, the remote is a web page accesssible from any devices, such as smartphone, tablet, PC's web browser connected on the same network.
The remote web address can be seen in blue below the remote activation checkbox. Just copy the URL web dress in any browser to display it.
Note: The remote is available only when the linutop-kiosk software is running
It can also be directly displayed on the same screen as the player by clicking on the right mouse button.
| | |
| --- | --- |
| Channels management | Playlist management |
| You can directly select a channel in order to display it, the player may need some time to upload all the data before displaying it depending of your network speed. | The playlist view allows to select directly one playlist item. |
Direct display allows to send a text message on the screen, it also return a copy of the screen.
You can also directly display an item usig the drag and drop menu below
The direct display template can be customized using the button change direct template in the Linutop kiosk settings menu.