---
Chapter 1. About Linutop-Kiosk
Linutop Kiosk is a powerful software for quickly setup a secure web access, a digital signage or a MultiMedia Player. The Linutop-kiosk application is included in Linutop OS and available for PC or Raspberry Pi
Linutop-Kiosk in kiosk mode allows you to setup:

Public web access (Secure web browsing kiosk for the Internet or a local site)
In a terminal or on a touch screen
For library, reception, hotel, school, supermarket ...
Linutop-Kiosk in digital signage player mode allows you to setup:

A configurable information screen
A display solution, digital signage, DOOH
The player can display a full screen web page, picture, video, PDF
Set the screen off
It is compatible with Linutop.tv centralized broadcast management system Web-based or private
For a home screen, internal or external communication, production site, agency, garage ...
The Linutop Kiosk offers 3 modes of operation:
1- Web Kiosk browser mode, for secure Internet access.

This mode allows to restrict various elements to make the browsing session very secure.

2- Digital signage player mode, for video display.

This mode allows to easily configure slideshows (playlist) of web pages, streams, pictures, PDF, sound, and videos locally or remotly.

3- A Web Kiosk Browser and Screen Saver Player Mode.

Both modes can be used at the same time, allowing to use the digital signage mode as a screen saver when the kiosk is not used.
The Linutop Kiosk is divided in two software:

1) is the main application (player).

In the

menu, entry.

2) is the configuration manager.

In the

menu, entry. This application is executed with the administrator rights. It defines how the main application will behave.

Linutop Kiosk is included into linutop OS Operating system.

Linutop Kiosk is accessible from the

Menu
---
Starting the configuration tool will display the following screen: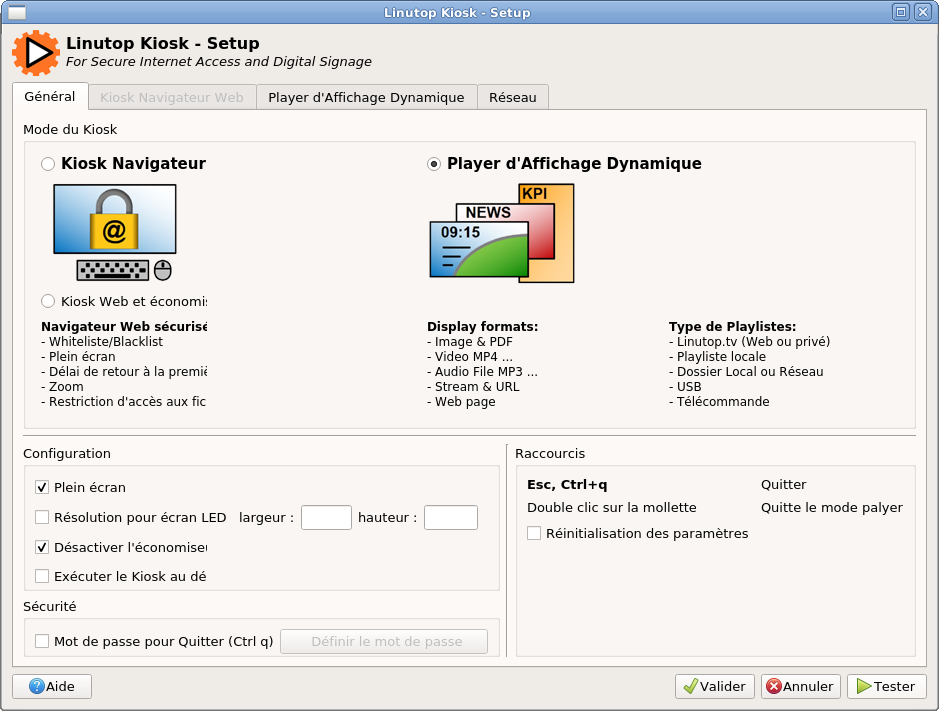 The top section of the Kiosk mode) lets you choose the mode:
tab (
Digital signage of videos, images and web pages

This choice will enable the

tab. The application displays the choice of playlist sources and the content of a playlist in a loop.

Web Kiosk browser for secure Internet access

This choice will enable the

tab. The main application will behave like a standard web browser, with the restrictions you'll setup (whitelist or blacklist of URLs, maximum session duration...).

Web Kiosk Browser and Digital signage as screen saver

This choice will simply enable all the features of the main application. At the end of browsing session, the digital signage feature will start to act like a screen saver.
The next section (Configuration) allows to setup a few things:
Fullscreen

If selected, the Kiosk will start in fullscreen mode.

Disable the system screen saver

If selected, the default system screen saver will never start.

Run the kiosk at startup

If selected, the Kiosk will automatically start when the system boots. It also restart this application in case of a crash.

LED screen control panel

This option places the Player at the top left of the screen with a resolution defined by its width and height. This allows to directly accommodate the largest number of led panel.

Password to exit the application

If selected, a password will be requested. This password will be asked to the user when he tries to exit the application. (ESC or CTRL + q or Double click the wheel in "dynamic display" mode)

Reset configuration

If checked, all values will be reset by default.
---
Chapter 4. Digital Signage with Linutop TV

Linutop TV is an online digital signage service. It will automatically send to the Linutop Kiosk a playlist and its associated documents remotely.
Configuration of your display system is done in 3 steps:
Upload your files on Linutop TV. With the Linutop TV library interface you can upload your files (videos, images or URLs).

Create your display playlist. Organize your files and set up their display parameters.

Display your playlist. Connect your display screens to your Linutop TV account.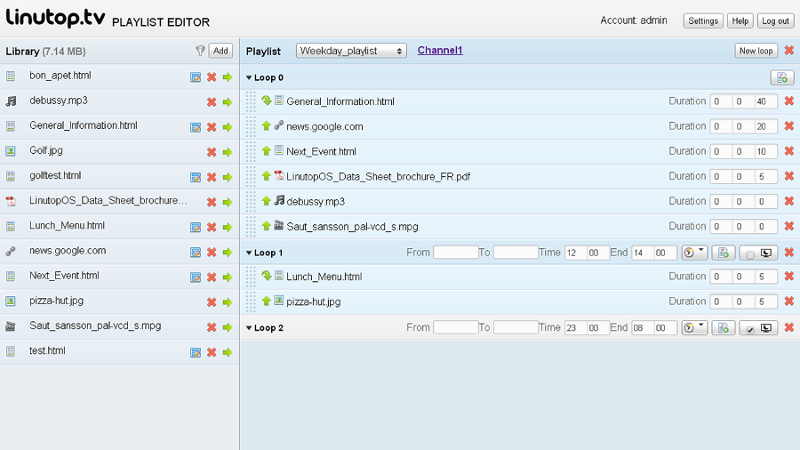 Linutop.tv can be accessed from any PC or web browser.
Linutop.tv is also available as a Private server, for more informations: www.linutop.tv
---
Chapter 5. Network settings
The
tab of the setup interface lets you define which proxy to use.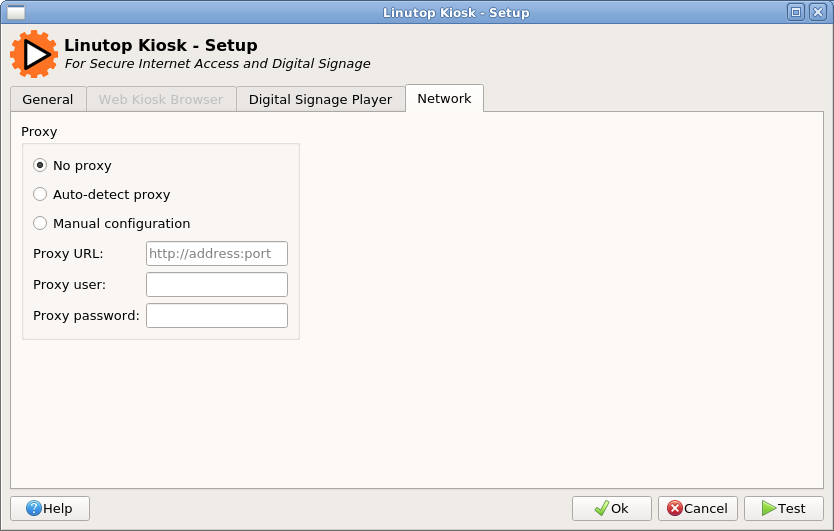 As shown on the screenshot, URI, user name and password can be defined.
User name and password entries can be left blank if your proxy doesn't require authentication.
The URI can take two forms:
http://192.168.1.2:3128: simple URL, with port
pac+http://192.168.1.3/proxy.pac: URI of a autoconfiguration script
---
Can display on several screens on the same network from linutop.TV broacast management server. on a local network or via Internet.