This application will automatically start an application just after boot, if the application unexpectedly stops, it will be automaticaly restarted.
The automatic startup of the main application used on the Linutop can be configured in the Linutop Configuration Panel, on the General tab: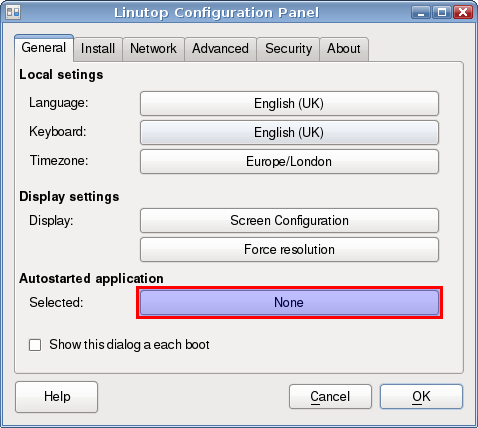 The Selected line shows which application is currently set to be started automatically. Clicking on its button will start the AppStarter application:
The drop down menu on the top on the window will let you select the application you want to start. For each application, a specific menu will be displayed on the bottom part of the window.
Two choices are common to all applications:
Disable the screen saver

This option will forbid the screen saver to start (handy for digital signage applications).

Hide the mouse cursor

If no mouse movement is detected, the mouse pointer will disappear after a second.
Note: The flashplayer will automatically switch to fullscreen mode after a few seconds.
To test your settings, click the Run a test button.
Validate your choice by clicking the OK button. The newly selected application will appear in the Linutop Configuration Panel.
More applications can be automatically started, using the desktop session mechanism.
To set this up, select in the main menu : Settings Manager. In the settings menu, select the Session and Startup Item, then the Application Autostart tab.
Click the Add button to add a new application to autostart.